The EM conference that raises the bar
EEM is the most famous EM conference on the planet for a reason. This concentrated dose of educational entertainment leaves other medical conferences bland and outdated in comparison. Attend on-location annually or watch online year-round as our grade A+ educators present easy-on-the-brain lectures that lock in the learning and clock serious CME hours.
Learn, practice, and inquire to ace your exams
Soak up 60 hours of continuously updated video, audio, and written educational content before testing yourself on 1200+ top-quality ABEM-style questions, and learning alongside our world-class faculty. You'll pass your exam with this course with this course based on ABEM's Model of Clinical Practice — guaranteed.
Quickly absorb the key pearls in the LLSA articles with our 5-minute video digests
Get ready to slay your LLSA in under an hour. Each year our team of light-hearted and big-brained hosts walk you through each article in a series of easy-to-use videos. Our famous 20-minute practice test is included to make sure you pass.
The concise, comprehensive video PEM curriculum
Feel uncomfortable taking care of acutely sick kids? Want a quick clinical refresher, with a focus on quick? Be prepared for critical and acutely ill and injured pediatric patients with over 100 video lectures, averaging 8 minutes each. Board-certified PEM faculty members curate and present each episode, backed by written summaries for at-a-glance reference.
Hippo has everything you need for your MOC
Assessment of Knowledge, Judgment and Skills
You Need:
ABEM Qualifying and ConCert™ Exams
Lifelong Learning and Self-Assessment
You Need:
CME Requirements
Physicians must complete an average of 25 AMA PRA Category 1 Credits™ per year or acceptable equivalent; eight of the credits each year must be self-assessment credits.
You Need:
LLSA Requirements
Physicians must pass four Lifelong Learning and Self-Assessment (LLSA) tests in years 1-5 and four LLSA tests in years 6-10.
You Need:
Patient Safety Requirements
Physicians whose certificates expire in 2017 and after must complete the Patient Safety LLSA (PS-LLSA). The PS-LLSA counts toward one of the four LLSAs required to be completed during each five-year certification period.
You've completed your MOC requirements with Hippo Education
Anywhere Access
On-the-go, mobile and tablet access makes the most of your valuable free time.
Always Entertaining
We make CME that's good for a laugh. No joke!
All the Answers
World-class educators. Constantly updated content. A+ quality to keep you in command.
Our Educators are Emergency Medicine All-Stars
Scott Weingart

Billy Mallon

Richard Cantor

Victoria Brazil

Kenji Inaba

Rob Orman

Greg Hendey

Mel Herbert

Sanjay Arora

Al Sacchetti

Haney Mallemat

Sol Behar

Ilene Claudius

Jan Shoenberger

Jeff Tabas

Joe Bellezzo

Stuart Swadron

Corey Slovis

Anand Swaminathan

Zack Shinar

Paul Jhun

Sean Nordt

Greg Moran

Aaron Bright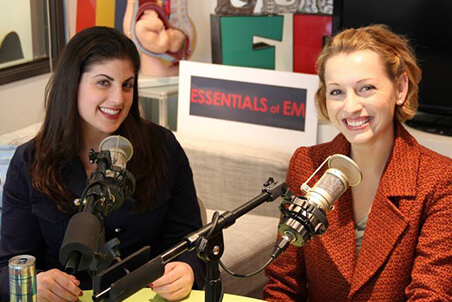 The EM Headquarters for Residents

&

Trainees
Hippo EM for Residents
Resident discounts on Hippo EM
Exclusive EMRA member savings
Resident CAll Room podcast
Mnemonic cards, study groups, and more...